Richmond County 4-H Summer Fun
Find this page at:
go.ncsu.edu/readext?695335
Summer Fun 2020 will look different this year due to regulations around COVID-19. Please check back here often as we figure out how to offer these programs using distance learning techniques. We will not have in-person, face to face camps this year and virtual additions are being added regularly to the current schedule. There will be programs in these areas: environment, plant science, animal science, food, & consumer sciences, healthy living, personal development, STEM, citizenship, and more!
Go ahead and enroll in 4HOnline so you/your child may participate in these great camps as they become available. Individual program registration information will appear here as each program's registration opens.
If you have any issues or questions about registration, please contact Catherine Shelley at 910.417.0258 or catherine_shelley@ncsu.edu.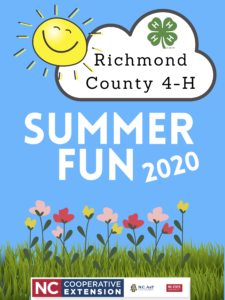 Registration helpful hints
Some programs require registration in Eventbrite first and then you will also have to register your child in 4HOnline. If this is the case, the registration link provided will take you to Eventbrite.
Some programs require enrollment in 4HOnline first, and then once approved, you will have to log back into 4HOnline and register your child in the event. If this is the case, the registration link provided will take you to 4HOnline. Once your child's enrollment has been approved (or if they are already approved), you can sign them up for the 4-H event. Once you have logged in to 4HOnline, click the orange "continue to family" button. On the next page, scroll to the bottom to find the "Register a Member in an Event" section. That is where you can choose your child's name and choose the event you want to register them for. See example photo below.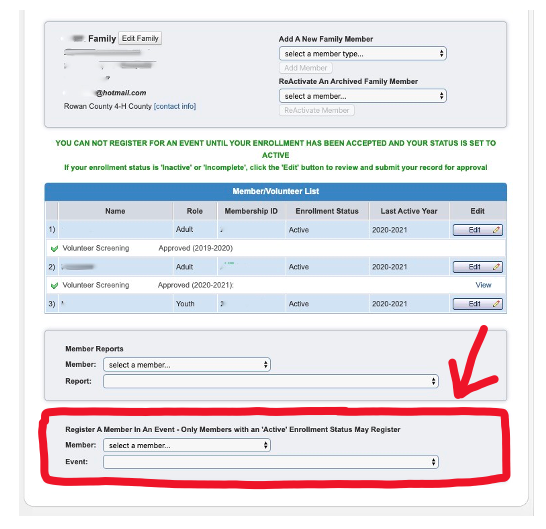 Summer Fun Programs Offered to
Richmond County 4-H'ers:
Turtle Trash Collectors: Learn about sea turtles from our friends at UNCW MarineQuest. In this one hour program, you will:                                                      • Virtually participate in a simulated sea turtle necropsy (animal dissection)
• See how trash in the ocean can impact sea turtles
• Learn how trash can get to the ocean
• AND learn how we can all help stop marine debris! (Please note that while all ages are welcome, this program was originally designed for 3rd-5th grade students. Younger audiences should attend with an adult if possible.) Thursday, July 16 @ 10:00 a.m. Registration is FREE and required.
Get OUTdoors! Adventure Club: This summer, encourage your youth to get outdoors. Every Monday they will meet with other 4-H'ers across the South Central 4-H District for a lesson, activity, and a challenge to get outside that week. Every Friday, participants will share their experiences with the challenge from that week. Activities will include bike safety, animal and tree ID, kites, fitness challenges, and obstacle courses. Once registration is closed you will receive meeting information. | June 1 – July 24 every Monday and Friday 1–2 p.m. | All 4-H Youth | Registration is FREE and required.
Virtual Poultry Camp (Must have access to Zoom): Learn about poultry terminology & purposes, breed origins, egg color, breeds, types of operations, exterior parts of the bird, and the digestive system. You will dissect an egg, candle eggs, enjoy a virtual tour of a poultry farm, and a virtual dissection of the digestive system OR use playdough to create the digestive system. There will be a mock Avian Bowl competition via Kahoot! Each day will consist of a lesson, activity, and approximately 30 minutes of homework each night. This camp will be taught by Laura Allen, Rowan County 4-H Agent and Morgan Watts, Rowan County Livestock Agent. | June 8-12, 2020, 10-11 a.m. daily | Ages: 9–18, limited to 20 registrants | Registration is free and required. (FULL)
NC 4-H Virtual Summer Programs: Starting June 1, registration will be open for numerous 4-H summer programs offered to 4-H'ers all across North Carolina. Classes include: Coffee & Culture, Back to the Basics, Plant Geeks Unite, STEM, Log on to Leadership, Down on the Farm, Explore Outdoors, 4-H Healthy Habits Family. More details & registration information!
Cloverbud Summer Spin Club (Must have access to Zoom): Youth ages 5 to 8 will discover the wonders of 4-H with other youth across the South Central District. Club meetings will be the 1st & 3rd Thursdays at 6 p.m. via Zoom. Registration is free and required. | June 4–August 20.
4-H Remote Skills Camp (must have internet access): This is a virtual camp for teens ages 15-18 (as of January 1). It is a month-long camp that costs $30. This camp equips teens with skills and tools needed for college and career readiness in the 21st century. The camp consists of nine core modules, delivered in a self-paced, online format. Earn this certificate in 30-35 hours (7-9 hours per week over 4 weeks). Teens will learn the best practices of being a remote workers and have unique opportunities to participate in live Q&As with remote workers at NASA, Microsoft, and more. This is a blended certificate course, combining online work with interactive workshops. June 2, 4, 9, 11, 16, 18, 23, 25. Workshops are at 2 p.m. EDT (Noon MDT) | Online | Registration closes May 27 at 5 p.m. More information.
4-H Fair Exhibit Friday: Agronomy is the science of using plants for food, fuel, feed, and fiber. In 4-H Agronomy, you'll learn how plants grow and how the science of agronomy is connected to business and to your community. Learn how to create an exhibit for county fairs around agronomy. Examples will focus around plants and soil science, corn, vegetable gardening, agriculture technology, and other areas related to agronomy and horticulture. Friday, June 5, 2020 | 2–3 p.m. | Online.
2020 NC 4-H Photography Contest – New category for 2020: Pets in Action. Pet photography is big business! Use your ace photography skills to capture your pet (or someone's) in action! Whether it's at home or elsewhere, we want to see those photographs. Be creative! We will be reasonably all-inclusive as to what can be considered a pet, but please, no pet rocks. NC 4-H Photography Contest pictures will be electronically displayed through NC 4-H social media/website – during National 4-H Week For more information>> | open to NC 4-H'ers 8-18 years old (as of January 1) | Entries due to Richmond County via email – June 26 cgshelle@ncsu.edu
NC 4-H Summer Statewide CAMP OUT! 2020 – Join families all over the country for a completely new and virtual camping experience in June! Free and open to any family that wants to have an outdoor summer camping experience with virtual connections and learning to make it FUN. This one-week experiential event will feature some of your favorite 4-H camping traditions like a dance party, slide show, trivia night, arts & crafts, and more. Your family will have an a la carte menu of organized camp activities to choose from so you can invest as much or as little screen time as you want. Sessions will even be led by trained, live Camp Counselors. The week's activities will culminate in a Friday-night backyard (or living room) CAMP OUT complete with some of your favorite camp songs, skits, and s'mores. You don't want to miss this unique virtual camping experience. It's as close to real 4-H camp as you can get this summer! THIS EVENT IS FREE BUT DOES REQUIRE REGISTRATION; SPACE IS LIMITED. Check out the schedule and session descriptions. Once your registration is confirmed, you will receive details on how to access the NC 4-H Summer CAMP OUT! 2020. | JUNE 22 AT 10:30 a.m. – JUNE 26 AT 8 p.m. | Registration is required.
I Have What it Takes to be Your Teen Babysitter: This babysitting class for youth is designed to help middle school and teenage youth to familiarize themselves with the responsibilities of babysitting, provide the necessary information for them to become capable, caring, trustworthy and responsible sitters, teach the skills and techniques needed for teens to become competent babysitters, help teens develop the confidence needed to handle situations that could happen when they babysit, help teens develop a positive attitude about the care of children, and prepare teens in the business aspects of babysitting. You must be registered in 4-H to attend. July 6–10 | 1– 5 p.m. | Ages 12-18 | Limit 30 | $44.32 | Register by June 29.
NC State University Horticulture Camp: Love wandering around gardens? Marveling over plants in the nursery? Eating blistered shishito peppers? This FREE virtual horticulture camp is open for high-school-aged youth. It will be a blend of two live events – a kick-off keynote and a closing program and then pre-recorded videos and activities for youth to do at home. It will be engaging and fun and youth can dig in at their own pace. July 7–9. Registration is required. The registration link contains more specific details!
DIY T-Shirt Quilt Sewing Camp will be held July 20-31 M-F each day from 9 a.m. – 10 a.m. Youth will receive step by step instruction daily and then will be able to complete steps at own pace through out the day. Staff will be available daily from 2-2:20 p.m. for questions and troubleshooting. No cost. Youth will be responsible for all materials. Materials list will be sent after registration. Ages 10+. Must have sewing experience and know how to fluently use machine. Read more!