Have You Tried Drying Foods?
Find this article at:
go.ncsu.edu/readext?373608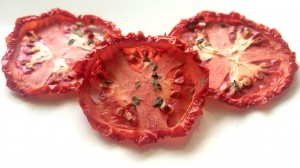 The Rockingham Farmer's Market offers a great selection of fresh, flavorful, and local produce. As Farmer's Markets' popularity grows, so does the interest in the preservation of its produce. Food preservation increases the storage life of these seasonal items. This allows their usage to last year round in cooking, baking, and snacking. Despite the recent surge in popularity, food preservation has been around for hundreds of years. Modern research is focusing on ways to ensure safety in this timeless process. Different food preservation options include canning, freezing, and drying. Choosing which option is best depends on the food, equipment, storage area, and time.
Meats, herbs, fruits, and vegetables are all foods that can be preserved by drying. The food is lightweight and high in energy, making it a popular choice for hikers and campers. However, this convenient option expands beyond hikers. Dried fruits and vegetables can make tasty, healthy snacks for almost anyone. Or, they can be re-hydrated after storage and added to soups, casseroles, or baked goods.
It is important to note that the calorie content in these foods is denser compared to the raw unprocessed item. The reason behind this is that the product volume shrinks as the moisture evaporates. Therefore, a serving of dried fruits or vegetables is smaller compared to fresh. Also, some vitamins and minerals are lost in the processing of these foods. Despite this slight loss in nutrients, these items can still add healthy benefits to ones diet, such as increasing fiber intake.
Drying prevents food from spoiling from molds, yeasts, and bacteria because water in unavailable for their growth. This method of preservation can be achieved in a few different ways. The sun, conventional ovens, or electronic dehydrators are all approved approaches. Using an oven would be a great option for someone that is new to drying foods or seldom chooses to do so. This method requires using an oven for extended periods of time at a low temperature. This can result in high energy usage for someone who dries food often. An electric dehydrator is a more cost effective solution long-term. An electric dehydrator is composed of several different trays. Warm air circulates around the food on these trays and accelerates the drying processes. Electric dehydrators tend to produce the best quality end product.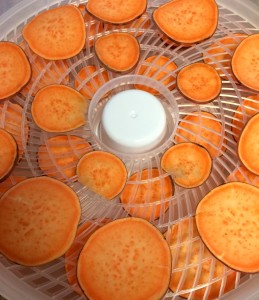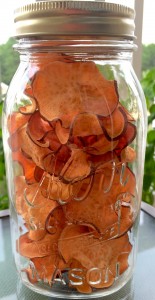 Dried foods are best stored in clear glass canning jars or plastic food storage bags. Humidity, light, temperature, and oxygen all affect the length of safe storage. When kept in a cool, dry location, some products can last up to a year. Preparation, processing, and storage specifics should come from a reputable source. Reputable sources develop recipes based on research supporting the safety of the food. One source that provides reliable information is the National Center for Home Food Preservation, which has information accessible online at nchfp.uga.edu.
North Carolina Cooperative Extension's Family and Consumer Science agent will be at the Rockingham Farmer's Market on Saturday, October 3rd at 9-11 a.m. Free samples of a selected and dehydrated farmers market item will be available. There will be additional information for those interested in learning more about drying food. This is a great chance to enjoy the fresh market produce and improve your family's access to it year round!
The Richmond County Cooperative Extension's goal is to provide the residents of the community with research-based knowledge. For more information on food safety, wellness, and nutrition please contact the Family and Consumer Sciences Agent, Alyssa Anderson, MS, RDN, LDN at 910-997-8255.