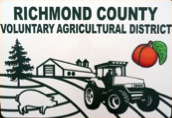 Informational Brochure
Application for VAD Certification (legal size paper)
VAD Supplemental Tract Form (legal size paper)
The Richmond County Agricultural Advisory Board meets on the last Tuesday of each month at 7:00 p.m. at the Ag Services Center, 123 Caroline Street in Rockingham to consider and approve any submitted VAD applications.
Board meetings are open to the public.  Current board members are:    Danny Bynum, Larry Chandler, Vic Goodman, Jim Lambeth, Tom MacCallum, Jeremy Martin, Tommy Peacock, Chair, Terry Sharpe, Rusty Williamson and Chris Yaklin.
Please contact Paige Burns, Horticulture agent, at 910.997.8255 for further information on the Voluntary Agricultural District in Richmond County.