4-H Winter Events
Find this page at:
go.ncsu.edu/readext?661422
4-H Sourdough Science
Humans have been baking bread all over the world for thousands of years, yet we know almost nothing about the microbes that make a traditional sourdough bread. In this activity, North Carolina students ages 11-18 will have the opportunity to solve the mysteries of bread! There will be a one hour Zoom session on January 26th at 6 p.m. At the end of this workshop, youth will have everything they need to measure height and pH, track the growth of a microbial zoo over time, and share data with REAL scientists. This project will last about 2 weeks following the class.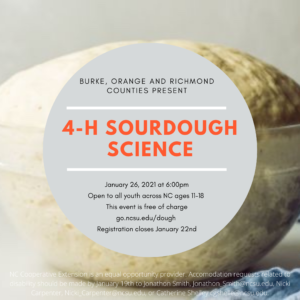 This event is hosted by the 4-H programs of Burke, Orange, and Richmond Counties.
Open to all North Carolina students ages 11-18.
Register by January 22 at go.ncsu.edu/dough.
If you need some assistance in securing supplies for this activity, please indicate that on your registration form and we will contact you as soon as possible to help.
Winter Enrichment
Winter Enrichment is a leadership opportunity for teens. Teens attend workshops and network with other teens across our district.
Saturday, January 30, 2021 from 10 a.m. to 1 p.m. via Zoom. Please register before January 21st. Some sessions have fees so pay attention!
SCD4hwinterenrichment2021agenda
2021 Winter Enrichment registration collection form
2021 Poultry Project
Chick orders will be placed Wednesday, December 30th. Please have all orders turned in to me by that time as I will not order extra birds. Chicks will arrive around February 6th.
Ordering 4-H birds commits you to participating in the 4-H Poultry Show. To participate, you must complete the associated 4-H Record Book that is about your bird(s), house the birds on property you own or visit daily, and pay for your chicks.
It is not mandatory to participate in, but by having chickens, you are also eligible to participate in the EGG-Cellent Egg Contest later in the year.
Options this year include Black Australorp Chicks ($3.30 each), Speckled Sussex Chicks ($3.30 each), and Silkie Bantam Chicks ($3.85 each). The Australorps and Sussex chicks will be ordered as females only but the silkies are not sexed. Please research each breed and determine the best fit for your backyard. Meat birds may or may not be a part of our project this year. However, if you are interested in having broilers, please indicate your interest in the google form below.
Payment is due at pick-up in February. You will also receive your record book at that time.
The poultry show is scheduled for Saturday, June 12 at 9 a.m. in person. This is subject to change due to COVID-19.
To place your order, fill out the google form for the poultry project by December 29th at midnight.
4-H ACHIEVEMENT DRIVE-THRU
This year everything has looked very different and our achievement program is no exception. Please save the date for Saturday, January 16, 10:30 a.m.-noon to "drive-thru" and pick up all of your 2020 awards. When you get to the parking lot, 4-H'ers will get out of the car, pick up their awards, and have their picture made. Each 4-H'er that RSVPs will be included in a video celebration that will be available to the public.
Volunteer Leaders' Conference
volunteer leaders' conference 2021
Project Recordbooks
2020 4-H Project Recordbooks are due February 19th. If you need help determining your category or have questions about them, please reach out.
4-H Home for the Holidays
Download this free holiday activity guide from 4h.org and stay busy all winter! While on the website, explore delicious, simple recipes from the 4-H family.
Outreach – College of Veterinary Medicine Video Learning Resource Library
Read the 5 ways to keep kids learning and scroll down the page in order to see two additional downloads. 4-H Inspire Kids to Do Activity Guide provides access to 60 activities to help your kid become a true leader. Also, press the Download Guide button to get 30 activities for your family to be healthy. Enjoy!