Richmond County 4-H Cooks Up a Win!!

On Saturday, July 31, two Richmond County youth participated in the State Presentation Pork Cookery Competition. This competition was compiled of youth from around the state who participated and won their age division at the county and then district levels. Each competitor has to furnish all of their own equipment, develop or modify a recipe, cook their dish without any parental help and then present their dish to a group of judges.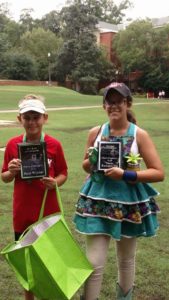 Senior, DeLani Reep was awarded a Silver medal with her Pineapple-Mango Pork Loin which she served with a homemade pineapple-mango lemonade. Junior, Tobey Lunceford was awarded a Gold medal for his delicious, made in North Carolina, Cheerwine Spareribs. Both students prepared their dishes on a charcoal grill on the campus of North Carolina State University. The competition was fierce and the weather conditions made the competition even harder. The fields were soggy and muddy from the previous nights' rain and the wind gusts were so strong that one competitors tent blew away. Richmond County 4-H members were prepared and focused and their awards show it! Congratulations DeLani and Tobey.
At the conclusion of the State Presentation Competition, DeLani Reep along with Serenity Sturdivant stayed in Raleigh to represent Richmond County 4-H in the 2017 North Carolina State 4-H Congress.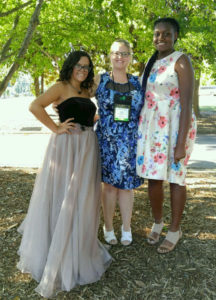 These young ladies participated in several leadership and public speaking workshops, went on a tour of the Raleigh Farmer's Market, helped package food to feed 80,000 individuals and still found time to get dressed up and attend the 4-H Congress Gala.
Over 300 youth from the all over the state attended North Carolina State 4-H Congress in Raleigh. Attending Congress is a great way to meet others from the state as well as learn more about the depths of 4-H in other areas. Members are inducted into the Honor Club as well as elect the new State 4-H Officers. Congress is always a great time for the teens of 4-H to learn, give back and have fun doing it.
Are you interested in learning more about 4-H and the programs that Richmond County 4-H offers? Contact Alyson Hoffman at Alyson_hoffman@ncsu.edu or at 910-997-8255. You can also stay up to date by joining our monthly newsletter list serve or checking out our Facebook Page, RichmondCounty4H.
Was the information on this page helpful?
This page can also be accessed from:
go.ncsu.edu/readext?481915