Summer Camping With Richmond County 4-H
Camp is a gift that helps shape a child's decision-making skills, team-working ability and self-esteem. Camp offers friends for a lifetime, adventures in a safe nurturing environment, and unforgettable activities like canoeing, archery, rock wall climbing, swimming and ropes courses.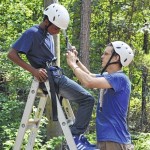 Richmond County 4-H is proudly supported by the United Way of Richmond County and Rockingham Rotary. Through these partnerships Richmond County 4-H is able to assist kids financially in attending camp.
A traditional week at 4-H camp can cost anywhere from $420 to $480 dollars. Although this is a bargain for the experience, lodging and three hot meals per day, it is more than most of us can afford. With the help of the United Way of Richmond County and the Rockingham Rotary, the Richmond County 4-H office will be offering camps at a greatly reduced rate. For Richmond County residents and 4-H members, a week at camp will cost $250 dollars. Overnight camp pricing includes transportation to and from camp, meals, lodging, $15 to spend in the camp store and a camp t-shirt.
Richmond County 4-H will be camping at Camp Millstone in Ellerbe June 18-23 and at Betsy-Jeff Penn 4-H Education Center July 16-21. Space for each camp is limited and reservations can be made today with a $50 non-refundable deposit that will be put toward the camp balance. Payments on the remaining balances can be paid at any time with the balances due in full by June 1 for Millstone and July 3 for BJP.
Would you like to help send a child to camp? Sponsorships help local 4-H members attend camp at either Millstone or Betsy-Jeff Penn. Sponsoring a week of camp is one of the greatest gifts you can give to a child. Through camp our youth are challenged and learn from nature and friends. Keeping a cabin clean is a competition and fun is inevitable.
Richmond County 4-H will also be offering day classes at the N.C. Cooperative Extension office this summer. Schedules for the Summer Fun classes have not been finalized, but will be published toward the end of March. Last year, our Farm-to-Fork class was a big hit! This year we will be revving it up a little and adding in more competition.
Would you like to know more about 4-H Summer Camp or be the one the first to know about Summer Fun classes? Would you like to sponsor a child at camp? Call 910-997-8255 or email alyson_hoffman@ncsu.edu to be added to our 4-H Summer Fun mailing list. As a part of the mailing list you will receive the most current camp, scholarships and registration information. You can also sign up for our new monthly newsletter. We look forward to having fun with you this summer!
Alyson Hoffman is the 4-H youth development agent for Richmond County's Cooperative Extension office.
Was the information on this page helpful?
This page can also be accessed from:
go.ncsu.edu/readext?442520