"Egg"-Citing Things Happening in 4-H!
Find this article at:
go.ncsu.edu/readext?410150
Recently, 555 2nd grade students throughout Richmond County public schools participated in the 4-H School Enrichment Curriculum, "Hatching in the Classroom". This National 4-H curriculum is a great embryology project sponsored locally by Richmond County 4-H and the Richmond County Farm Bureau. Richmond County Farm Bureau has graciously donated several incubators to the project due to it's rapid growth and continues to be a wonderful supporter of Richmond County 4-H.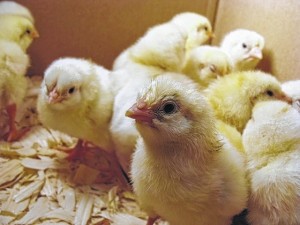 Teachers who participate in the program are given an incubator, 10-15 fertile eggs and resources to assist them in teaching about the life cycle through poultry embryology. Over the course of 21 days, students rotate the eggs, candle the eggs to identify development stages and also build brooding boxes for when the chicks hatch. During the incubation time, teachers are focusing their lessons on the life cycle and students are learning through hands-on activities. At the conclusion of the program, I have a chance to speak with classes about 4-H and ways they can join. In addition, Richmond County Livestock Agent, Tiffanee Conrad speaks to the participants about livestock, agriculture and the broiler chickens they have hatched. This allows the students to ask questions and learn more about the contributions of a chicken.
4-H school enrichment curriculum follows the "experiential learning" model. This type of learning encourages "learn by doing" or experiential process. This means students have hands-on activities, reflect on the meaning and apply what they learned. Richmond county teachers were wonderful in working with their students and have come up with some wonderful, creative activities to engage their students.
This month, Cordova School and 2nd Baptist Christian Academy will also be offering "Hatching in the Classroom" to select classes. This will be an additional 100 students who participate in the embryology program. Through the past several years, this program has grown and developed into an amazing opportunity to teach children about the life cycle and also where their food comes from.
For more information about "Hatching in the Classroom" or other school enrichment curriculum, contact Richmond County 4-H Agent, Alyson Hoffman, at 997-8255 or by email at Alyson_hoffman@ncsu.edu