Get Ready for Your Best Garden in 2016
Find this article at:
go.ncsu.edu/readext?388392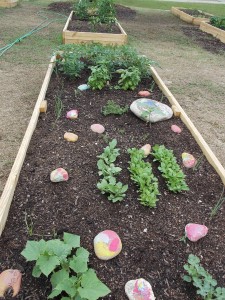 January is the official start of the new gardening season, with the arrival of colorful seed catalogs in the mail and long, cold nights spent indoors reading them. What better way to relieve the winter blahs than to start planning for your best vegetable garden or landscape!
The North Carolina Cooperative Extension Service is ready to help you plan and get excited for the gardening season with classes, Internet resources and even a long-running statewide television show called "Almanac Gardener." This longest-running series on UNC-TV has been a trusted source of information for gardening and landscaping since 1983.
Hosted by the N.C. Extension's Mike Gray, this 30-minute program tackles questions and answers from viewers and features panels of N.C. Cooperative Extension agents and specialists. Gardening information provided during the program is founded in research, which is the basis for all Extension advice.
"Almanac Gardener" airs during the busy gardening season of April through August on Saturday at noon and is rebroadcast at 10:30 a.m. Sundays on UNC-TV.
No need to wait until April to chase away cabin fever with thoughts of ripe tomatoes or azaleas. Viewers can "binge-watch" previous episodes on the computer on a wide variety of gardening topics by visiting http://www.unctv.org/content/gardener. Gardening resources are also a feature of the Almanac Gardener UNC-TV webpage.
If your seed catalog collection brings up more questions than answers, visit the North Carolina Extension webpage at https://www.ces.ncsu.edu. You can explore many articles and videos posted by Extension professionals, find your local office and even ask your question by clicking "Ask An Expert " on the bottom of the webpage.
Your question will be routed to a "Question Wrangler" for a quick and expert answer. Your local extension agents often will receive the question if you mention your county in the request. Of course, you can always call our local office in Richmond County at 910-997-8255 for information.
If you would prefer learning more about starting a garden by attending a class, sign up to attend a free gardening workshop on Jan. 22 at the Richmond County Extension office at http://growrichmond.eventbrite.com.
This workshop begins at 8:30 a.m. and lasts until 12:30 p.m., with speakers available to help gardeners interested in starting a school, church or community garden. Topics include growing for food banks, recruiting volunteers, finding resources and using pollinators in the garden. The group will also tour Hitchcock Creek Community Garden during the workshop.
Whether gardening is a new or old hobby, a way to make extra income or a passion, the North Carolina Extension is ready to help you prepare for your best gardening season ever in 2016! Contact us at richmondces@ncsu.edu, http://Richmond.ces.ncsu.edu or 910-997-8255 for more information or to subscribe to our monthly Richmond County Extension newsletter.

(this article was published 1/6/2016 in the Richmond County Daily Journal)