Learning "Hatches" at Local Elementary School
Richmond County 2nd grade students at all seven elementary schools have been participating in the 4-H Embryology School Enrichment Program for the past three weeks. Children have a natural sense of curiosity about living things in the world around them. Building on this curiosity, over 500 2nd grade students gained an understanding of biological concepts through direct experience with living things, their life cycles and their habitats. Evidence has shown that youth learn best through their experiences and interactions with the world. They learn by listening, observing, experimenting and applying their knowledge to real-world situations.
The benefits of a 4-H School Enrichment program, such as 4-H Embryology in the Classroom, are:
Provides students with greater knowledge and skills in areas that might not be covered in their classroom.
Youth that are under-represented (those who may not otherwise take part in a 4-H club, camp, or after school program) are served.
It brings classroom learning to life and supplements the classroom curriculum.
It provides research-based curricula that is unbiased and evaluated for effectiveness.
The 4-H lessons, that are offered, link the university research to 4-H's experiential learning model; hand's on learning with application.
It uses materials that are age appropriate.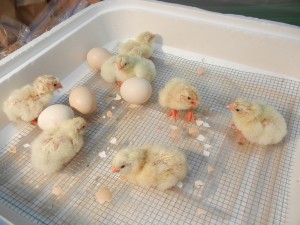 During the 21 days that it took for the chicks to develop and hatch, students helped to ensure healthy growth by turning the eggs, monitoring temperature and keeping water in the incubator. Teachers were provided a resource notebook that guided them through lesson plans on the chicken anatomy, identifying parts of the egg, and how to candle an egg to determine if it's fertilized.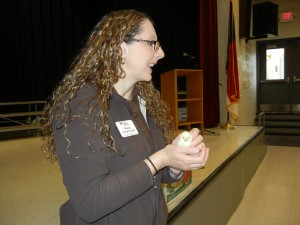 After the eggs hatch, Tiffanee Conrad, Livestock Agent, and Laura Grier, 4-H Agent will talk to participating classrooms about their experience and answer any questions the students have about 4-H Embyrology. In the past, the students have some amazing questions and are very curious about the development of the chicks. Teachers have noticed an increase in student attendance during the three week long program. Educators seem to learn from and enjoy the program as well.
Currently, NC 4-H offers a variety of school enrichment curricula with topics that cover soil conservation, vermicomposting, electricity, astronomy, energy transformation, healthy living, and many more. Educators and homeschooling parents are welcome to use 4-H curriculum; in some cases the resources are free and include classroom-ready project/curriculum kits.
Richmond County 4-H receives support to offer programs like this, at no cost, through the generosity of Richmond County Farm Bureau. You can also support Richmond County 4-H by contributing to the United Way of Richmond County.
For more information on Richmond County 4-H contact Laura Grier, 4-H Agent, at 910.997.8255 or laura_grier@ncsu.edu.