4-H Teen Council Gets in Giving Spirit
The time of year is quickly approaching when people's hearts begin to warm and fond memories from times past seem to surface. With all the holidays in the month of December, people look forward to the action of giving rather than receiving. The Richmond County 4-H Teen Council will be doing just that on Friday, December 19, 2014. Richmond County 4-H Teen Council consists of Richmond County 4-H members ranging in age from 13-19. They serve as teen volunteers and as a youth leadership and advisory board for the county's 4-H program. This year, council members have decided to host a 4-H Christmas Movie Night for up to 30 Richmond County youth, ages 5-12. Those who attend will create festive holiday ornaments, eat holiday snacks, drink hot chocolate, and enjoy a Christmas movie. The Richmond County 4-H Teen Council members will assist the young participants in all activities that evening. This group of youth also plans to purchase and donate gifts to another teenage youth in need in Richmond County—as a part of their service project. By being a member of the Richmond County 4-H Teen Council, youth are encouraged and excited about giving back to a community that provides so much to them.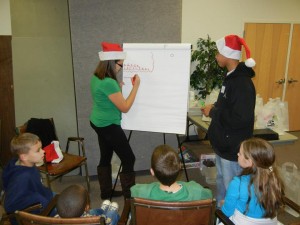 There are multiple ways to involve youth in service activities such as though schools, religious organizations, and through youth development organizations such as 4-H, Boy Scouts, and Girl Scouts. Historically, 4-H has encouraged youth and volunteers to engage in community service activities through it's pledge of "hands to larger service." Service activities and volunteering help young people learn about caring relationships, leadership, and citizenship. According to the Michigan State University Extension, youth that participate in community service activities can:
Learn the value of helping others.
Develop leadership, communication, organizational skills and a sense of empowerment.
Learn how important the connection is between subject matter and life in the community.
Learn how to cooperate with one another and work as a team with diverse groups of people including adults, peers and others with different backgrounds and experiences.
Succeed in an area different from academics, athletics or popularity.
Build self-esteem from the positive results of their service.
Develop problem-solving and decision-making skills by applying their knowledge to real-world situations.
Develop a sense of being responsible for their community and a sense that citizenship requires them to actively participate in their community.
Receive recognition for their efforts and possibly college scholarships.
Experience the world of work.
The number of teen youth benefiting from such results over the past year is impressive. Dr. Kimberly Allen, NCSU Assistant Professor and Extension Specialist, reports that over 15 million youth ages 12-18 volunteer, nationwide. Youth ages 16-19 that volunteer and participate in service activities have doubled in the past two decades. Engaging youth in volunteer opportunities and community service projects can lead to positive effects on social, emotional, and cognitive development.
There are many opportunities for teen-age youth to be involved in 4-H "community focused" activities such as Friday, December 19, 2014. For additional information and resources on youth volunteer and community service opportunities, please contact Laura Grier, Extension Agent, 4-H Youth Development, laura_grier@ncsu.edu or visit www.facebook.com/richmondcounty4h.
Was the information on this page helpful?
This page can also be accessed from:
go.ncsu.edu/readext?327955