Extension@YourService: 4-H Goat Show Placings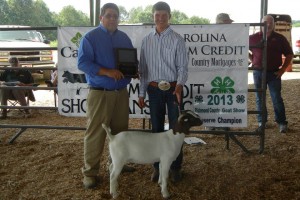 The 4-H Farm Credit Showmanship Circuit is well under way with 3 shows behind us. Richmond County youth have placed very high at each show, taking away lots of ribbons, trophies, and premium money. Randolph County placings were announced several weeks ago and we now have the results from the most recent two shows:  Jordan Carroll won reserve champion with his doe and Coleman Berry won grand champion with his market wether at the Guilford County show; Savannah Shepard, Garrett Hamilton, and Toby Lunceford showed at Guilford County in the Cloverbud division; Coleman Berry won first and Savannah Chappell placed 3rd in Junior showmanship; Jordan Carroll won first, Madelyn Chappell placed 2nd, and Brianna Hamilton placed 3rd all at the Guilford County show.
Stanly County hosted their goat and heifer show this past weekend and have submitted their showmanship placings: Tobey Lunceford, Savannah Shepard, and Garrett Hamilton all showed in the cloverbud division; Payton Smith placed 2nd, Savannah Chappell placed 3rd, and Coleman Berry placed 4th in the Intermediate division; Jordan Carroll won first place and Brianna Hamilton placed 5th in the Senior division. Payton Smith also won Grand Champion market wether. All of our youth from Richmond County show meat goats, which is the most competitive species in the Circuit.
The show schedule is listed on the Stanly County website at: https://www.ces.ncsu.edu/farm-credit-showmanship-circuit/
Point rankings will be listed on the website very soon, if you would like to keep up with the results of this very competitive program. Jordan Carroll, pictured above, is currently undefeated in his senior showmanship age division for Circuit placings. Congratulations to Jordan and all of our Richmond County 4-H youth for a job well done!! The next show will be Saturday, August 23rd in Montgomery County. If you have questions about the Circuit or showing livestock, please call 910-997-8255.